As the usage of video grows in many parts of life, from entertainment to education to news, it is becoming a more powerful marketing tool. According to Wyzowl's State of Video Marketing 2020, the number of organizations that use video as a marketing tactic has increased from 61% in 2016 to 85% in 2020 because individuals are twice as likely to share video content with their peers than any other form of material. (Wyzowl, 2019).
Is it Only for the Young Generations?
Ageism and stereotyping have led marketers to underestimate the digitally adept and valuable baby boomer population. Marketers who engage baby boomers in their digital strategy may surpass others who are still caught in stereotypes by utilizing smart segmentation and thoughtful representation.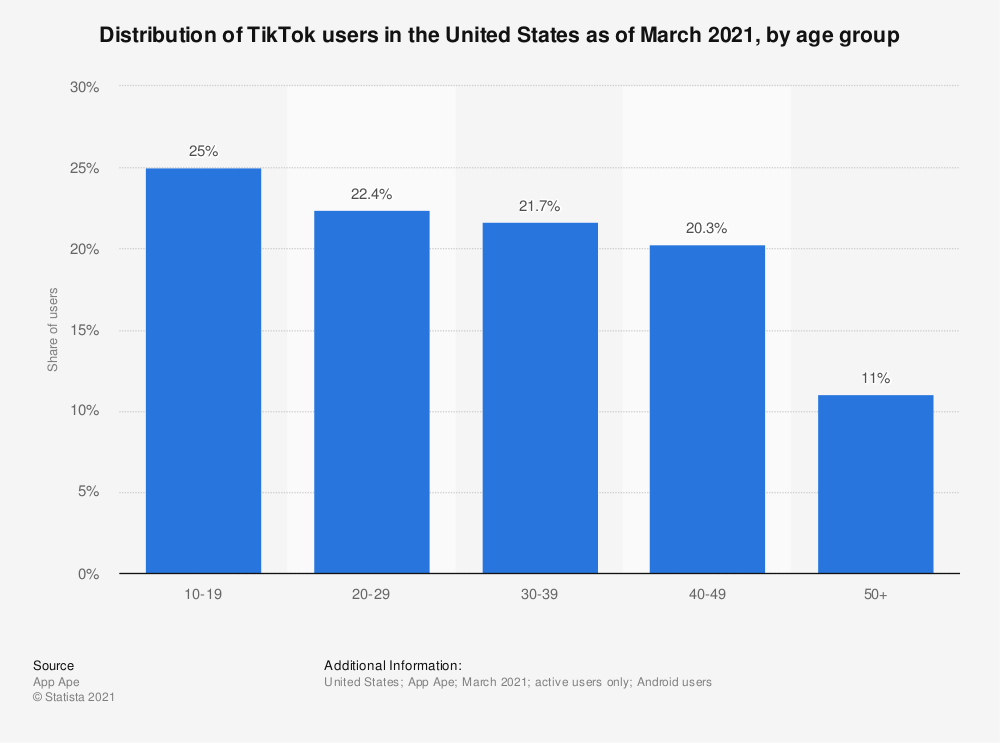 According to Statista's data in March 2021above:
25% of TikTok's global audience is between 10-19
44.1% is between 20 and 39
Interestingly though, we still find 31.3% of US TikTok users are aged 40-50+
As a result, its appeal extends beyond the young generations.
The Rising Star App Worldwide
TikTok surpassed all other applications in 2020, with 850 million global downloads, when you include both Apple and Android downloads. TikTok surpassed Facebook, Messenger, Gmail, Netflix, YouTube, and Instagram in terms of downloads on Apple's mobile platform. The app is presently available in 141 countries, according to Apptrace. It is in the top 25 in 139 of these nations. Last but certainly not least, there are 1.1 billion active users worldwide. That equates to 14% of the world's population!
The Best App for Engagement
But what about the age-old question of "do I need thousands of followers to go viral?" In short, the answer is no. As of 2020, TikTok is one of the world's best-loved apps, its success powered by some of the world's most sophisticated AI, making it easier to go viral. For reference, here are the average engagements in each platform:
Facebook – The average engagement rate for Facebook posts is 0.18%. Pages with fewer than 10,000 fans see 0.52% engagement, according to 2021's Sprout Social Facebook statistics.
Instagram – Research from RivalIQ puts the average Instagram engagement rate at 1.22%. Long story short? Organic engagement isn't what it used to be.
TikTok – TikTok users with fewer than 5k followers typically have an interaction rate of 21.10%. The engagement rate falls to 18.14% for individuals with 5k to 20k followers. The average engagement rate declines to 15.53% for accounts with 500k to 1 million followers. When HypeAuditor examined accounts with 1 million or more followers, the average engagement rate was 17.28%.
According to Upfluence research, TikTok has far higher engagement than Instagram and Youtube at all follower levels. Micro-influencers, for example, have engagement rates of 17.96% on TikTok, 3.86% on Instagram, and 1.63% on YouTube.
TikTok's Most Promising Markets
With the hashtag #TikTokTravel, tourism and travel have unrivaled potential; you can discover some marketing tips and methods here. Restaurants are also leveraging Tiktok to provide consumers with a mini-tour of the dine-in experience, giving them a taste of the atmosphere. Collaboration with local micro-influencers will also increase engagement and foot traffic to your business. Daily Hive, for example, compiled Tiktok videos that persuaded consumers to visit these businesses. While other larger brands, such as Chipotle, are fully embracing hashtag challenges and humour to increase brand recognition. See here for more examples.
Even the public sector and non-profits benefit from the authenticity of Tiktok videos, acquiring more users to pause, watch and engage. It conveys a message in a lighthearted way given by an actual person, not a faceless logo.
Conclusion – Don't Wait, Start Trending
TikTok excels in increasing brand exposure and engagement. Many advertising firms believe that users who can mix amusing or instructive material in a 15 or 60-second video clip would experience nearly instant results (Source).
A case study from Forbes shows what happened at EasyCall.io, a provider of call centre software. According to Eric Haim, when the business introduced the product, it had 0 followers on TikTok. Then EasyCall received 840 views, 55 clicks, and two new customers after posting a short video of its click-to-call widget. Haim estimates the worth of such customers at $500 at no cost.
Companies who are willing to be amusing and entertaining, or to poke fun of themselves, have a good chance of gaining momentum on TikTok quickly. Many see TikTok as having untapped potential, implying that now, not later, is the perfect time to start harnessing it. Learn more on our social media strategy service here and check out one of our client's TikTok: @honeybrewbar.